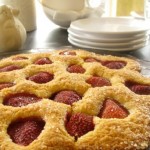 Print Recipe
Love Cake
Mix and bake this cake in one pan, using whatever fruit you have around for the prettiest, easiest dessert.
Preheat oven to 350.

Zest lemon into sugar, using hands to mix well together. Set aside. Mix into one bowl, flour, baking powder. Mix together. Add sugar. Mix. Add eggs, oil and vanilla. Mix. Batter will be quite thick. Put in a 9" cake pan or 10" tart pan. Smooth out and place strawberries on top, gently pushing in a little bit.

Bake for 35-40 minutes. You can bake up to 50 minutes for a crunchier cake. The original recipe calls for 50 minutes to one hour, which was too much for my oven.