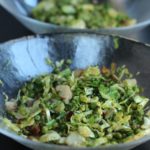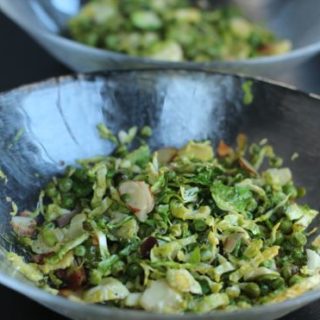 Print Recipe
Shredded Brussels Sprouts Salad with Baby Peas, Toasted Almonds and Lemon
Salad with shredded raw Brussels Sprouts
1-2

shallots

sliced thinly

2

cloves

garlic

minced

1

tablespoon

olive oi

maybe more for drizzling

2

tablespoons

sliced almonds

sea salt

freshly ground black pepper

1

cup

frozen peas

4

cups

shredded Brussels sprouts

juice of one lemon with zest
Defrost frozen peas. Set aside

Rinse Brussels sprouts well, as there could be dirt hiding in between leaves. Trim stems. Shred brussels sprouts with mandolin for slice with chef's knife. If you do use a mandolin, be very careful and use the safety. I find it easier to use a sharp knife and slice very thinly.

Saute shallots in 1 tablespoon olive oil until softened. Add in garlic and almonds. Saute until almonds are toasted. Add in peas until they are warmed through. Add in Brussels sprouts. Turn off stove.

Zest lemon. Set aside. Drizzle with olive oil and lemon juice. Sprinkle with lemon zest. Season with salt and pepper.