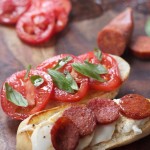 Print Recipe
Margherita Pepperoni Caprese Sandwich
It's quality ingredients that make this sandwich special, fresh mozzarella, Margherita pepperoni, garden homegrown tomatoes and fresh basil on an Italian roll.
Margherita pepperoni

enough slices to cover the roll

2

Italian rolls

six slices fresh mozzarella cheese or enough for two rolls

olive oil

1

fresh tomato

few leaves basil

salt

pepper
Slice pepperoni medium thickness and fry in frying pan until it's charred around the rim and shrinks to a cup. Pat grease with paper towel.

Toast rolls.

On bottom roll place mozzarella cheese, drizzle some olive oil, salt and pepper, add tomato, add a little more olive oil and salt, and top with pepperoni.