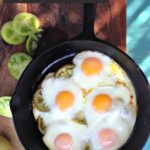 Print Recipe
Paleo Baked Green Tomatoes with Eggs
Paleo friendly, baked green tomatoes with baked eggs.
Slice green tomatoes.

Add oil to cast iron pan or baking dish. Just enough to cover bottom.

Season tomatoes with salt.

Bake at 375 for 12 minutes.

Add eggs.

Turn temperature up to 400.

Bake eggs until done, 7 - 10 minutes.