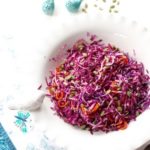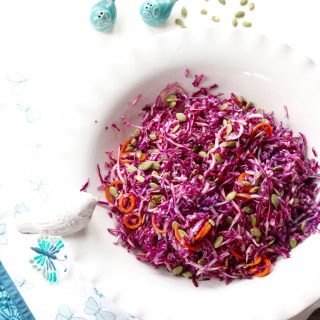 Print Recipe
Red Cabbage Salad Recipe
Make a shredded red cabbage salad recipe with a shallot vinaigrette and pumpkin seeds for a healthy, Paleo, low carb choice
Trim red cabbage and shred with either food processor, knife or spiralizer.

Peel and trim carrot. Julienne or shred. Add to cabbage. You can use more carrot if you like. I just used a small amount for color.

Toss cabbage with vinaigrette. Season with salt and pepper. Toss again. Taste to make sure the cabbage is acidic enough. As it marinates, it will lose some of the acid.

Add pumpkin seeds, reserving some for topping right before serving.
Shallot Vinaigrette
Mix mustard, shallots, lemon juice and vinegar.

Add oil. Shake in jar or use whisk to incorporate.

Add dressing. You may not use all of the dressing, depending on size of head of cabbage used.