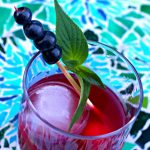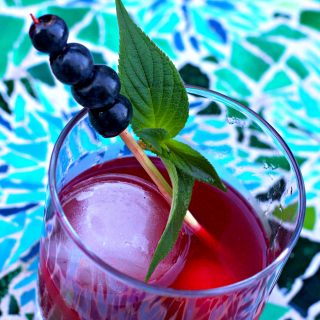 Print Recipe
Blueberry Old Fashion Cocktail
Blueberry Simple Syrup, Kentucky Bourbon
2

oz

Kentucky Bourbon

1 1/2

tablespoons

blackberry or blueberry simple syrup

see below

8

blueberries

a dash of the vanilla syrup

a dash of spiced cherry bitters

a teaspoon of sugar

4 -6

frozen blueberries

a squeeze of lemon

splash soda water
Put everything in the shaker with some ice, give it a good shaking, then pour through a strainer to take out the berry pulp.

Then added a few frozen blueberries to float on top, along with a strip of lemon peel.

Pour 3/4 of glass.

Add splash soda water.
blueberry simple syrup instructions
Heat water, sugar, blueberries together to a boil. When water is at a boil, add diced strawberries, and simmer until the strawberries are very soft. Take through a sieve. Store in refrigerator.