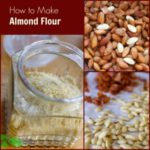 Print Recipe
How to Make Blanched Almond Flour
How to Make fine, blanched Almond Flour to use in baked goods.
Boil almonds for one minute until skins fall off.

Rinse in cold water.

Dry on a clean towel.

If using a food processor, pulse 3 seconds at a time, so as to not make almond butter.

Process in a Vitamix, pulsing for about 5 seconds at a time on medium speed and then stopping for about 30 seconds. Move the almonds around, making sure to move the almonds from the bottom. This is how I do it; it's less grainy than the food processor.

If using in macarons, you will need the flour very fine and the flour should be sifted.