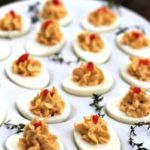 Print Recipe
Spicy Pimento Cheese Deviled Eggs
Spicy Pimento Cheese Deviled Eggs, winning appetizer and a Southern treat.
Pimento Cheese Deviled Eggs
Pimento Cheese Spread
Mix cream cheese with Worcestershire.

Mix all cheeses with sriracha, pimento, salt, pepper. Refrigerate, while making hard boiled eggs.
Pimento cheese Deviled Eggs
Run hard boiled eggs under cold water. Peel.

Mix mayonnaise, mustard together with salt and pepper. Mix thoroughly, until yolks are like a spread, no crumbles. Mix with pimento cheese.

Taste for heat, salt, and mayonnaise. Add only as needed. Put into a pastry bag fitted with a large 1 M or star tip.If you don't have, use a plastic bag and cut a very small hole in one corner.

Slice lengthwise and empty yolks into a bowl.

Squeeze mixture onto eggs. Refrigerate covered, by placing in a large baking dish.

Serve within 24 hours.