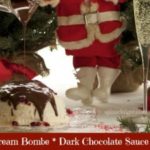 Print Recipe
Ice Cream Bombe with Dark Chocolate Sauce
Great for the holidays a two toned ice cream bombe with raspberry sorbet in middle surrounded by vanilla ice cream and topped with chocolate sauce.
Ice Cream Bombe Ingredients
1 1/2

quarts

ice cream

high fat content so that it keeps its integrity

1

quart

sorbet

round bowl large enough to spread the vanilla all the way up the sides

smaller bowl that will fit inside the larger bowl

ice cubes

plastic wrap
Chocolate Sauce adapted from My House to Your House from Dorie Greenspan
4

ounces

bittersweet chocolate or 1 cup high quality chocolate chips

Ghiradelli bittersweet chips

1/2

cup

heavy cream

1/2

cup

milk

1/2

cup

water

6

tablespoons

sugar
Ice Cream Bombe Instructions
The ice cream you want on the outside will go into larger bowl. Press it in at 1 1/2 inch thick all around. cover with plastic, fill with ice curbes.

Place in freezer and freeze for several hours to over night..

Remove bowl and fill with sorbet. If you need help in removing bowl, remove ice cubes and place hot cloth on inside of bowl. Fill with second ice cream or sorbet. Freeze for a few hours. Place bowl in a larger bowl of hot water for 1-2 minutes. Invert onto serving dish, place back in freezer. Remove 10 minutes before serving to soften.
Chocolate Sauce Instructions
Heat together in heavy bottomed sauced pan until boiling. Boil while stirring for a few minutes. Bring to slow simmer for 10 minutes, stirring frequently with a whisk.

Serve at room temperature or hot for hot fudge sundaes.