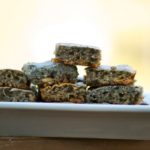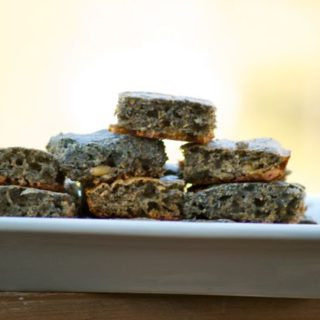 Print Recipe
Blue Corn Bread with Pine Nuts
3 tablespoons canola oil 3 cups blue cornmeal 2 tablespoons baking powder 1/2 teaspoons baking soda 1 cup buttermilk 1 cup sour cream (or a second cup of buttermilk) 1/2 cup milk 2 eggs 1 teaspoon salt 3 tablespoons raw agave nectar 1/2 cup lightly toasted pine nuts (optional)
3

tablespoons

canola oil

3

cups

blue cornmeal

2

tablespoons

baking powder

1/2

teaspoons

baking soda

1

cup

buttermilk

1

cup

sour cream

or a second cup of buttermilk

1/2

cup

milk

2

eggs

1

teaspoon

salt

3

tablespoons

raw agave nectar or sugar

1/2

cup

lightly toasted pine nuts

optional
Preheat oven to 425. Put rectangular stone pan (or 10" cast iron) pan into oven with oil. As soon as oven is heated, pour any excess oil into batter below. Pour batter into pan and bake for 15 -20 minutes.

Mix dry ingredients together.

Mix eggs, buttermilk, sour cream and agave necar. Add dry to dry ingredients.

If using rectangular baking sheet, bake for 15 minutes.

If using cast iron pan, bake for 20 minutes.