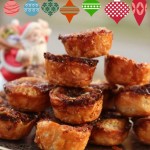 Print Recipe
Butter Up Santa with Caramelized Butter Tarts
Butter tarts from Canada, found everywhere at Christmas time.
Roll out pastry crust and cut into circles. I used a cookie cutter and then pushed each down into mini tart shell pan. Be careful not to stretch dough, so it doesn't shrink.

Mix ingredients with electric mixer or stand mixer. My tart pans makes extra sized small tarts, so I used about 1 tablespoon per tart. I opted out of corn syrup and raisins.  My friend insisted I should use the corn syrup, but I didn't have any and took my chances.

Next Christmas I'll try it her way and I might even try a batch with raisins.

Bake at 450 for 10-15 minutes. They might boil over a bit, but they should settle down. Once out of the oven, allow them to cool before removing because the sugar makes them very hot. Sprinkle with sea salt. I think that cuts the sweetness and gives them that salty caramel taste.