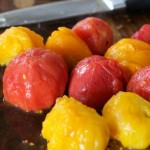 Print Recipe
Sunset Tomato Jam from My Garden
Adapted from Herbivoracious, and a recipe found on Food Loves Writing, I mixed red and golden tomatoes and basil from my garden with some syracha
Slice off top of tomato. On backside, use knife to draw an x. Place into boiling water for 8 seconds. Remove with slotted spoon. Cool. Peel.

Chop finely.

Place in saucepan with basil, honey, salt, pepper, Sriracha.

Cook for 1 to 2 hours on low until all liquid is evaporated and you have jam.