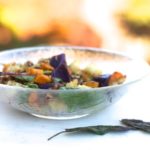 Print Recipe
Thanksgiving Side: Butternut Squash with Brussels Sprouts and a Secret Ingredient
A medley of Butternut Squash, Brussells sprouts,
Preheat oven to 375.

Peel butternut squash. Slice in half, scoop out seeds.

Cut into large cubes, toss with olive oil and roast for 20-30 minutes (until soft).

Cut stale Italian Bread in cubes (or tear in bite size pieces). Toast in oven.

Clean Brussels Sprouts. Slice thinly to shred.

Heat olive oil in pan. Fry sage leaves until crisp. Remove. Set Aside for garnish. Melt anchovies in hot oil. Add Brussels Sprouts. Saute until softened, approximately 5 minutes. Add in a pinch of freshly chopped sage.Add in squash, bread pieces, and season with black pepper and salt as needed. Keep in mind anchovies are salty. Garnish with sage leaves.