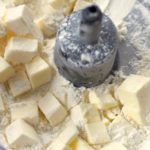 Print Recipe
My Perfect Pie Crust
Recipe for perfect pie crust, made with butter, resulting in a flaky, tender crust every time.
2

cups

all purpose flour

12

tablespoons

unsalted butter

cubed

3/4

teaspoons

salt

1

teaspoon

sugar

optional

6-8

tablespoons

ice cold water
Place flour and cubed butter into freezer for 30 minutes.

Using a food processor, mix flour, salt and sugar for a few seconds to evenly disperse.

Add butter evenly in food processor. Mix on medium low speed for 10 seconds or until the butter is evenly dispersed, but still in tiny parts. You might want to

Slowly add in the water and mix for 3-5 seconds. It will not look ready, but you can test this by pinching the mixture together and it should hold. If not add in one more tablespoon water. Pour this mixture into a plastic ziploc bag. Form together and refrigerate for at least one hour. It will magically turn into pie dough.

Take out and allow to rest 15 minutes. Flour the dough and roll out.

This will make enough pie dough for a double crusted pie or 24 hand pies.