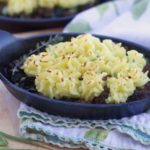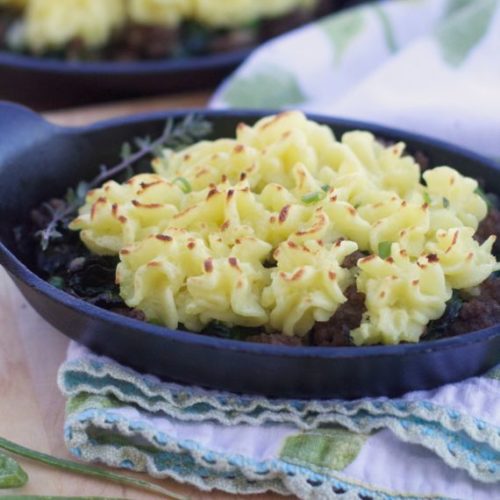 Print Recipe
Italian Shepherd's Pie with Grassfed Ground Beef, Peas, Onions and Kale
Shepherd's pie as entree or party bite with Italian flavors.
olive oil

1

pound

grass fed ground beef

1

clove

garlic

1

onion

diced

2

cups

chopped lacinato kale

1

cup

frozen peas

few sprigs fresh thyme or oregano

sea salt

black pepper

dash red chili flakes

1/4

cup

milk

1/3

cup

white wine

1

tablespoon

butter

olive oil

garlic mashed potatoes or any mashed potatoes

Mini tart shells using your favorite pie crust

Rolled out to 3 inches for a 2 inch cookie cutter pan and baked at 400 degrees for 12 minutes.
Place enough olive oil in pan to cover bottom. Add onions and saute until softened. Season ground beef with salt and pepper. Crumble in and stir fry until meat is cooked through. Add milk and stir until milk in cooked down. Add in white wine and turn on low and cook down until alcohol is cooked off, about ten minutes. Add in a tablespoon of butter. At this point meat should be in nice wine sauce. Add in raw kale and continue to cook until kale is softened. Season as needed with salt, pepper and chili flakes.

ASSEMBLE

Spoon mixture into the mini tart shell. Top with mashed potatoes using a pastry bag. Place under broiler just until potato is golden.

Serve immediately.

When making entree, you can use individual dishes or a larger dish. Make sure it's it's something you can put under the broiler, like a cast iron pan.