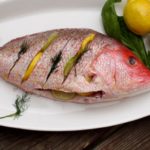 Print Recipe
Grilling a Whole Fish
Lemons, limes and fresh herbs are stuffed into a whole red snapper and grilled for a succulent fish dinner.
Rub olive oil over fish. Make sure to oil the bottom of the fish.

Make 4 slits all the way to the bone on each side of the fish

Stuff the fish with slices of lemons, limes and fresh herbs.

Season with salt and pepper.

Allow fish to sit out for at least 30 minutes.

Heat the grill on high. Place fish on grill.

Turn grill down. Cook for 25-30 minutes.