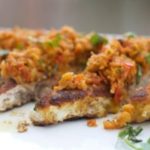 Print Recipe
Sword Fish Milanese with Eggplant Tomato Sauce with Tabasco
Recipe for Swordfish Milanese fried with eggplant tomato sauce made spicy with Tabasco.
For the Swordfish Milanese
1

pound

swordfish steak

salt

pepper

1

cup

brioche breadcrumbs

1

egg

olive oil for cooking
Eggplant Sauce
Peel and cube eggplant.

Cut cherry tomatoes in half.

Mix together olive oil, tabasco sauce.

Toss eggplant and tomatoes with olive oil

Bake for 45 minutes at 300 degrees.

Put into a Vitamix or food processor and blend but still keep a chunky texture.

Preheat oven at 300 degrees.
Make breadcrumbs
place torn bread on baking pan for about 15 minutes at 300 until crispy and brioche breaks into breadcrumbs with your hands

Roll Swordfish in plastic with a rolling pin to flatten out to 1/2 inch to 3/4 inch

Season with salt and pepper.

Dip in egg wash. Dip in breadcrumbs.

Heat oil in frying pan on medium heat. Fry 3-5 minutes on each side or until each side is golden brown. Drain on paper towels.

To serve: Top swordfish with eggplant sauce and serve immediately.