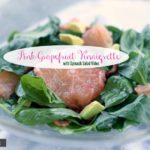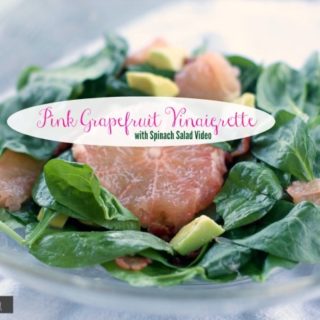 Print Recipe
Video: Grapefruit Bacon Avocado Salad, Grapefruit Vinaigrette
Recipe and video for brain healthy Avocado, Pink Grapefruit, Spinach Salad with Grapefruit Vinaigrette
six cups or one bag or bunch of baby spinach leaves

wash, rinsed, dried

2

slices

bacon

cut into bits and fried crispy

1

pink grapefruit

1

avocado

salt

pepper
Pink Grapefruit Vinaigrette
Cut grapefruit into wedges using a sharp knive. Use enough to squeeze out two tablespoons of juice. Cut up rest for the salad.

Cut avocado into cubes.

Arrange Spinach in a bowl. Mix with just enough salad dressing to wet the leaves. Baby spinach wilts quickly, so go easy.

Add in bacon, grapefruit and avocado.

Season with salt and pepper, and adjust dressing as necessary.
Pink Grapefruit Vinaigrette