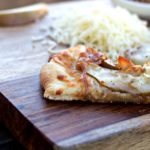 Print Recipe
Pear Prosciutto Goat Cheese Pizza
Pizza that is good for dessert, appetizer or main event, sweet, salty, chewy, crispy.
Roll out pizza dough

Arrange mozzarella cheese almost to the ends of dough

Cover with pears

Tear prosciutto and place intermittently

Add in some goat cheese in small amounts, intermittenly

Put pizza on heavy cast iron griddle or stone that has been preheated.

Place on bottom rack of the oven.

Bake at 450 or 500 degrees F for 6-10 minutes.

Season with salt and pepper out of the oven.