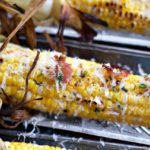 Print Recipe
How to Cook Corn on the Cob
Corn on the cob can be microwaved, or grilled
Grilled Corn
For steamed-like corn, grill for ten minutes, turning once, in entire husk, unshucked.

For charred corn, remove hair and return corn to husk and grill for then minutes. You can at this time add your butter or mayonnaise.

For charred corn, you can put the corn out of husk, directly on grill for 10 minutes, turning at least once.