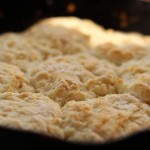 Print Recipe
Aretha Frankenstein's Buttermilk Biscuits and Six Tips for Making Great Biscuits
Legendary giant bisquits, from the famous eatery in Chattanooga. Aretha Frankenstein's Buttermilk Biscuits from Maryann Byrd's Rise of the Southern Biscuit.
Mix dry ingredients together. Cut in butter to pea size pieces.

Add in buttermilk, and continue with biscuit cutter until all flour is incorporated. Dough will be wet and sticky.

Place on floured board, and fold making sure dough is thoroughly mixed but do this gently.

Form a circle about 1 inch high and pat down with hand. Use a pint glass to cut biscuits. I used a 2 1/2 inch glass. Place in cast iron pan or baking sheet. Sprinkle with a little sugar. Biscuits should be touching. Bake for 20 minutes until golden brown underneath.