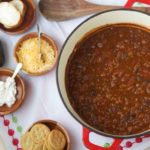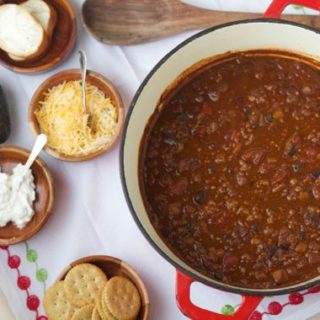 Print Recipe
Doug's Cold Weather Crock Pot Chili
5 Bean, 3 meat chili with a few special ingredients, resulting in perfect creamy blend of meat, heat and beans.
1

can black Beans

see note on beans

1

can kidney Beans

1

can cannellini beans

1

can red Beans

1

can pinto peans

1

ground chuck

need a fatty beef

1

pound

ground pork

1

extra large orange pepper

can use green, or red

1

large can diced tomatoes

petite dice is best

2

large onions

diced

1

red chili pepper

seeded and diced (or any pepper of your choice)

1

chili starter mix

option or the following seasonings:

3

tablespoons

chili powder

1

teaspoon

cayenne powder

more or less to your taste

2

teaspoons

paprika

1

tablespoon

cumin

dash cinnamon

this is not in chili starter mix

sea salt

ground pepper

1 to 2

tablespoons

masa

use for thickness, if needed
Season meat with salt and pepper. Brown the meat. in small pieces in frying pan. Maintain the fat of the meat. This will add flavor!

Rinse the beans with water to reduce the sodium; however you can put the cans in as is with the juice.

Put in crock pot. Add tomatoes, peppers, onion and seasonings, except the masa.

If you don't use a chili starter kit, use the spice ingredients that followed. Taste and adjust to your own liking.

Sprinkle the masa after the chili has cooked for 2 hours.

Continue to cook in low setting of crock pot for 5 more hours.

Note: It's not necessary to cook the chili this long, but cook the chili at least four hours.

Serve with grated cheddar cheese and sour cream, if desired. I find this chili so rich due to the masa, that sour cream isn't necessary.

Note on beans: You need the to use kidney beans and black beans, but feel free to mix your beans as you please.