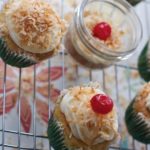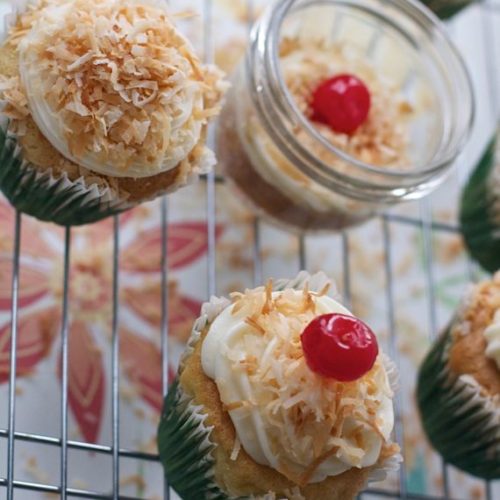 Print Recipe
Pineapple Cupcakes with Toasted Coconut
Moist yellow cupcake, filled with pineapple and coconut, topped cream cheese and butter frosting and toasted coconut.
1¾

cup

flour

1

cup

sugar

1

teaspoon

salt

1

teaspoon

baking powder

1

teaspoon

baking soda

1

teaspoon

vanilla

½

cup

fresh pineapple

finely chopped (can used canned)

2

tablespoons

yogurt

2

eggs

½

cup

oil canola oil

1/2

cup

coconut

TOASTED COCONUT INGREDIENTS

1

cup

coconut

Cream Cheese frosting recipe in found in link below.

Marachino cherries for each cupcake

Note: If baking in jars

you can use 1/2 pint wide mouth jars. Spray the jars with baking spray.
Sift baking soda, baking powder, flour together. Set aside.

Mix together, eggs, sugar yogurt, pineapple, vanilla.

Mix dry mixture into the sugar mixture. Add in oil, and mix. Add coconut.

Pour into cupcake pans ¾ way.

Bake at 375 for 15-20 minutes, depending on size of cupcake.

This makes approximately 12 large cupcakes.

TOASTED COCONUT INSTRUCTIONS

Lower heat to 350. Lay out coconut on shallow baking pan. Bake for 5 -10 minutes, checking at 5. If you want it really brown and crunchy, bake longer, but keep checking so it doesn't burn.

The Cream Cheese Recipe is in a link below also found in my dessert category.

Top with a cherry

BAKING IN JARS

This recipe rises high. I ended up with jars of cake filled to the brim, so I turned them over and they fell right out. I cut them in half and put them back in the jars. Do not fill more than 1/4 of the way of the jar. If you freeze your jar cakes like I like to do, leave an inch between the cake and the lid.