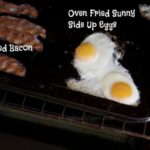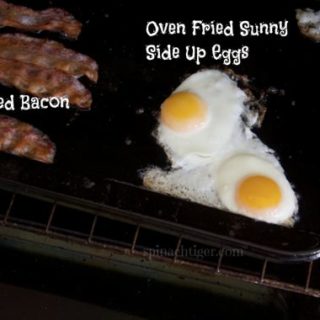 Print Recipe
Oven Fried Sunny Side Up Eggs and Oven Fried Bacon
Tested methods on oven fried sunny side up eggs that don't stick and oven fried bacon
Sunny Side up Eggs
4

eggs

coconut oil

optional
Oven Fried Sunny Side Up Eggs
Heat oven to 400 degrees

Crack eggs in dish first. Let them sit out while making bacon.

Put enough bacon grease or coconut oil in cast iron pan to coat the pan. Put in oven to make sure pan is good and hot before putting eggs in. If using a silpat, grease the silpat and use an egg ring.

Bake eggs in the pan, or silpat for about 5 minutes. I used small eggs, so you might want to check at 5 minutes. Eggs will be done on top, but will continue to cook. Remove from pan immediately to stop the cooking process.
Oven Fried Bacon
Place bacon in cold oven. Turn to 400 degrees.

Using a long baking sheet or cast iron griddle that goes into oven, lay bacon flat in pan. It can touch but should not overlap.

I turn the bacon over at 10 minutes. Continue to bake for another 10-15 minutes, depending on how crisp you like it. I use a Lodge reversible griddle that has a place for the grease to go. If you are using a baking pan, use parchment paper or foil because that makes clean up easier.