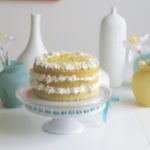 Print Recipe
Olive Oil Lemon Cream Cake
Lemon Olive Oil Cream Cake is very lemony. This recipe makes a triple tiny cake or a double 8" layer cake. Adapted from Better Homes & Garden
Make the garnish first. Before juicing the lemons, cut the skin of the lemons to shreds. I use this tool. Put lemon peels into the sugar to dry from 1 to 4 hours.You may have to work some of the sugar off of the peel before garnishing.

Grease and flour your cake pans. You can use three 6 inch pan for a triple layer cake or two 8 inch pans for a double cake. You can increase the recipe by 50% to make a triple 9 inch layer cake.
Cake
Mix lemon zest into the sugar with your hands.

Beat olive oil and sugar until smooth.

Add in eggs one at a time for 20 seconds each. Beat for four minutes.

Whisk together flour, salt, baking powder, baking soda. Set aside.

Mix together buttermilk, lemon juice.

Add dry and wet ingredients to egg mixture, taking turns until all is incorporated.

Bake at 350 for 20-25 minutes or until toothpick comes out clean.

Cool for ten minutes before removing.

Cool completely before topping with cream.
Lemon Cream Frosting
Beat cream cheese until very soft. Add confectioner's sugar.

Add in lemon juice and cream and whip to soft peaks.
Assemble
Refrigerate cake for 30 minutes.

Place one cake on cake dish. Spread top of cake with 1/2 cup of the cream. Place another cake layer on top. Spread with another 1/2 cup cream. Top with remaining cake layer. Spread with another i/2 cup cream. Spread 1/2 cup frosting on the sides of cake to make a light crumb coating. Spread any remaining frosting atop of cake.

Top with sugared lemon peel.