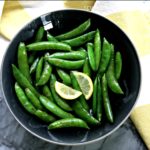 Print Recipe
Easy Recipe for Sugar Snap Peas, the Low Carb Snack
How to cook sugar snap peas, a healthy low-carb side dish or snack.
1

package or pint of sugar snap peas

1 to 2

tablespoons

avocado oil

olive oil or coconut oil

sea salt to taste

black pepper to taste

Squeeze of lemon or splash of red wine or champagne vinegar.
Peel the center strip of sugar snap peas.

Heat pan, add oil to medium heat. I prefer olive oil for flavor.

Stir fry for 3 to 5 minutes, turning frequently.

Add a squeeze of lemon or a splash of vinegar,

Season with salt and pepper to taste.