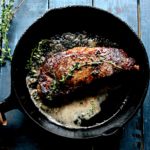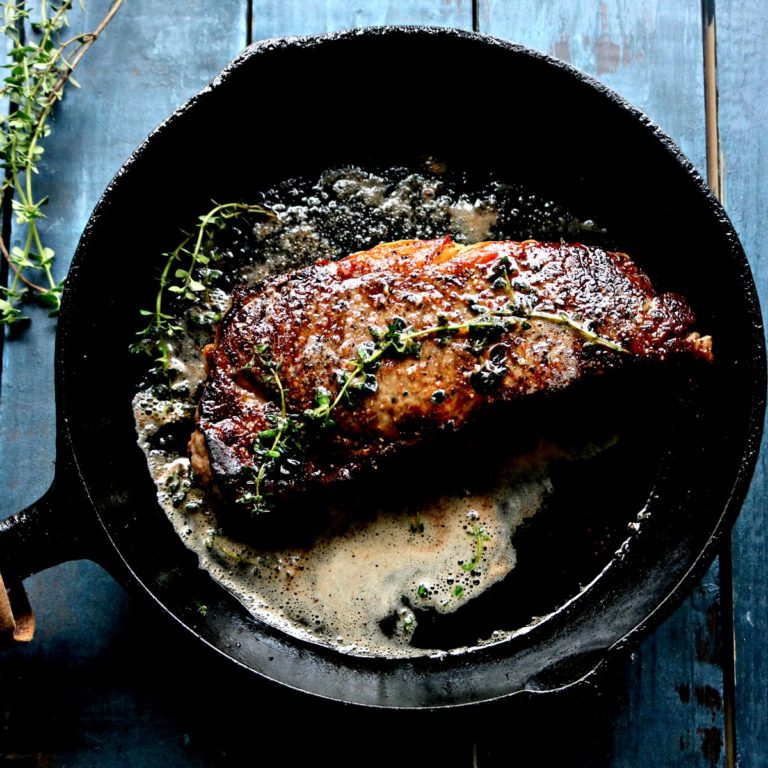 Print Recipe
How to Cook a Perfect New York Strip Steak
How to cook a good a New York strip steak, from frying pan to oven with optional marinade.
New York Strip Steak

olive oil

salt

pepper
Marinade (Optional)
1/2

cup

red wine

1

tablespoon

Worcestershire Sauce

1

clove

garlic

minced

sea salt

black pepper


Kitchen Tools for this recipe
Cast Iron Pan ORDER HERE
Meat ThermometerORDER HERE
Grill Press ORDER HERE
If you have a few days, salt steak and place uncovered on open rack to dry out. If you don't have days, salt at least for 45 minutes.

Preheat oven to 375 degrees F.

Heat frying pan on medium to medium high heat for a few minutes. Add small amount of oil.

Heat a few more minutes.

Use paper towel to make sure steak is dry.

Add in steak. Place grill press over steak if you have one.

Turn over at 3 minutes when steak easily moves. If it's not moving easily, give it another minute.

Turn over, place in oven and cook for 5 more minutes, for rare, 7 minutes for medium rare, 9 minutes for medium. These are approximates. Use a meat thermometer to check.

Remove from oven at 135 degrees for medium rare.

If you want to add butter and thyme, add a tablespoon of butter to pan when removing from oven.

As butter melts, spoon on top of the steak.

Allow to rest for 5 to 10 minutes.