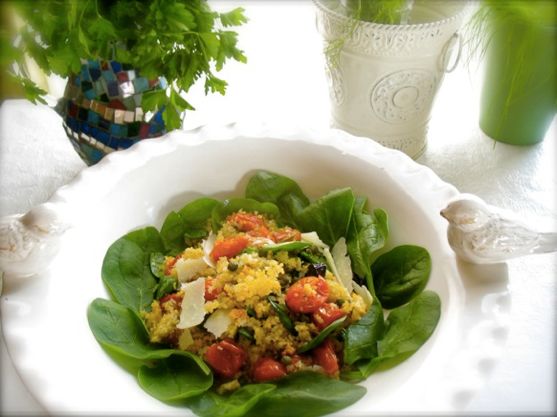 My passion for healthy, whole food is only equalled by my compassion for those who are hungry, and may not have that same opportunity to choose three healthy meals a day. I never take it for granted, and in my gratitude I joined forces with others like me at Blogger Aid Changing the Face of Famine to help fight world hunger.
This dish may be the quintessential Spinach Tiger dish because it's healthy, a vegetarian, fresh, bright, clean, is heartily satisfying, and is now featured in the book put together by Blogger Aid Changing the Face of Famine to help fight world hunger.
In deciding on a dish for the cookbook, I knew I wanted to use a food with a  dense nutrition profile, versatile ingredients and Italian inspired. I ended up with this very simple, savory, roasted, toasted quinoa, which won't be found in any Italian cookbooks, at least not that I've seen, and I have a lot of cookbooks.
WHAT I LOVE about this dish is that not only is it vegetarian, it is gluten free, and is a delicious, option for those who might be missing the deeply satisfying pleasure of eating Italian pasta.
Because it is a cookbook submission, I can give you a just a hint of how I made the dish, but not reveal the ingredients, which you can find out, once the cookbook is published. And, there are a few ingredients that make this dish very special and you will want to know.
Toasted Quinoa with Roasted Tomatoes

Isn't this beautiful? I've come to regard any dish that has the Italian flag colors as usually quite delicious. Quinoa is first cooked, and then toasted in a very hot oven mixed with special ingredients until very crispy. It is a mouthful of savory, crispy, Italian flavor and texture.
You can see another way I prepared quinoa here.