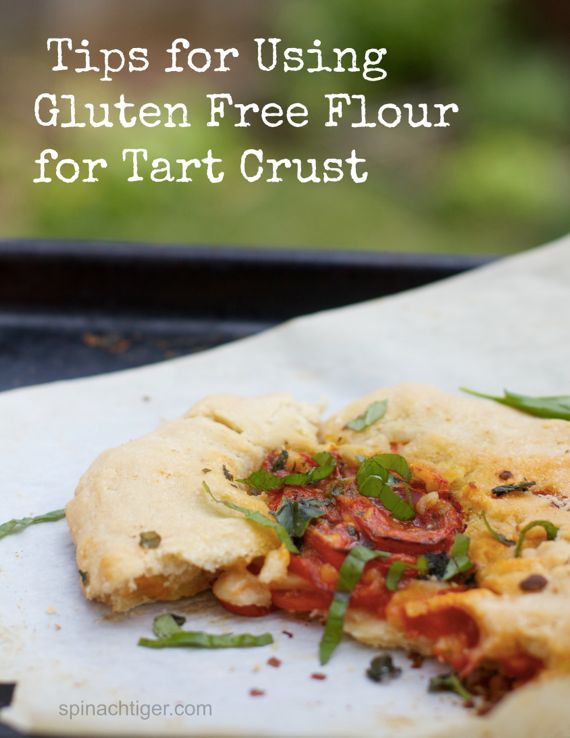 Gluten Free Tart Crust is something new for me here. I don't do trendy diets, or follow any diets that eliminate meat or dairy. I eat everything as long as it's whole, real food. Of course, real is a vague topic.
A few weeks ago, however, I made a decision to go 30 days gluten free. It's not because I'm intolerant to gluten, but I was very curious about the movement of gluten free as a food trend for folks not suffering from celiac disease or gluten intolerance. I wanted to know if there were any benefits that I could feel or see and I wanted to know how difficult it would be.
I will write a full blog post with more information about this gluten free trend on my 30 day experience in two weeks. I am only half way through. I made a decision when I went gluten free that I was NOT going to buy processed gluten free products, because for the most part I don't purchase processed gluten products. I wanted to find my way with satisfaction from starchy foods like potatoes and rice, if I needed more than protein and veggies.
I hit a craving when I had freshly picked tomatoes from my garden and I wanted a tomato tart. I broke down and purchased gluten free flour at Trader Joe's and went to work making a tart crust that would hold together enough to form a tomato galette. The results were very good, probably better than I expected, as long as didn't expect the same texture as a crust with gluten which is what holds a dough together.
This is not the most beautiful looking galette, but I'm sure even that will improve with a little more practice. It has more of the quality of a tart crust that has an egg added or a shortbread crust, but once cooled and cut, it did hold together. Leaning from my technique for a regular crust, I learned a few tips in baking with a gluten free flour. The lack of gluten leaves the dough vulnerable because there is nothing to hold it together. Yet, with a little practice, a good pie crust can still be made.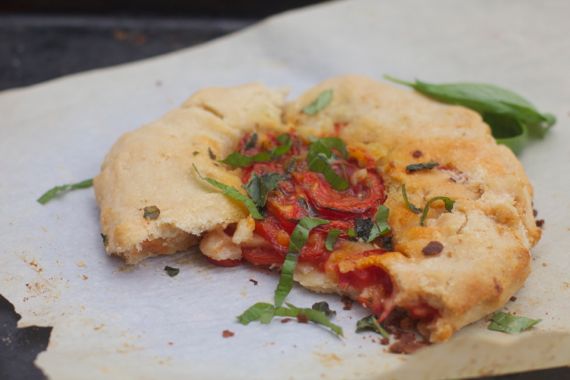 Tips for Gluten Free Tart Crust
Use freezing cold butter.
Use a food processor, but don't over process the butter. Just like I make my regular pie dough, I count to ten and stop, as the flour and butter are mixing on low setting.
Use iced cold water, but after 1/4 cup, go slowly. The biggest mistake people make is adding in too much water, which makes a tough pie crust.
Even though there is no gluten to relax, resting the pie dough in the refrigerator for at least an hour or longer makes it easier to work with.
Use floured parchment paper to roll the dough out. You will need to put in the middle of two pieces of dough.
Know that how you roll it and fold it is how you will see the finished product. Unlike regular pie dough, if you put a finger in it, you'll see that indentation, so realize what you see before baking is what you'll see after baking is done.
Add a little sugar to the dough. Don't ask me why, but it tastes good, even for a savory crust.
Make a tart, a galette and fill it with anything you wish. For the tomato tart (recipe coming) I used fresh San Marzano tomatoes, a little bit of olive oil and some basil, baking for about 30 minutes or until it was crispy underneath.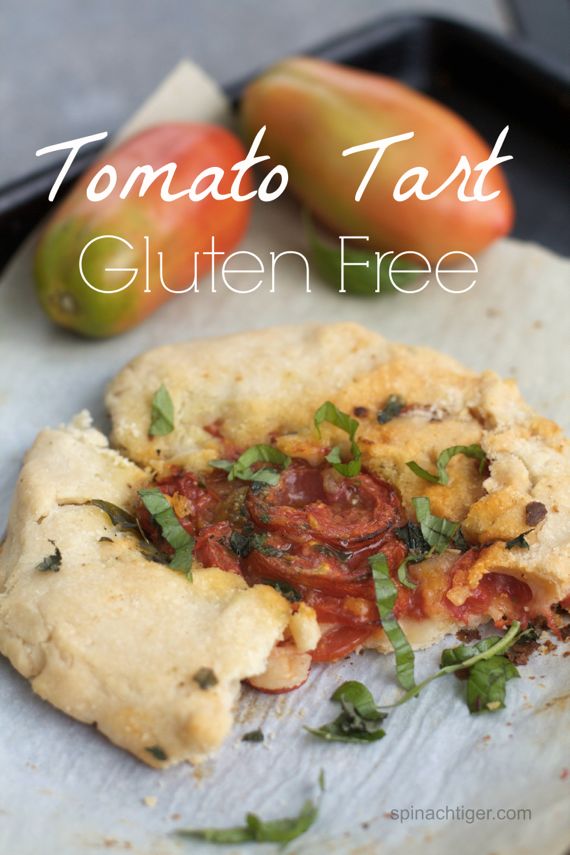 I'll give you a more complete recipe for the tomato tart in the coming days. In the meantime, it would work well with this goat cheese tomato tart.
I now have a gluten free category, so take a look and I've started a gluten free Pin Board. You'll get to see so much more on instagram, and I'd love to connect with you there.

Gluten Free Tart Crust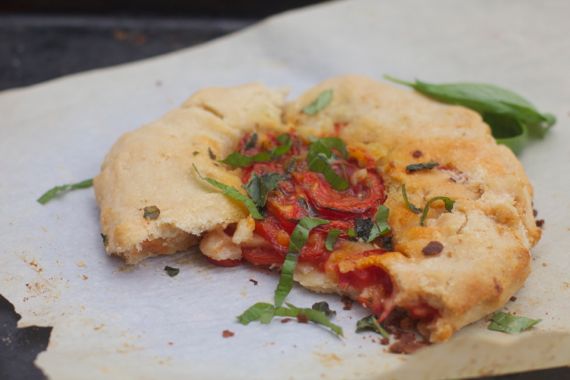 A gluten free tart crust, good for any pie, tart or galette.
Ingredients
2 cups gluten free flour
1 teaspoon salt
2 tablespoons sugar (can decrease or leave out)
12 tablespoons butter, cut in cubes and frozen
½ cup of ice cold water (may not use it all)
extra flour for rolling
parchment paper
Instructions
Mix flour, salt and sugar.
Add butter to the mixture in the food processor set on low and count to ten slowly. Stop.
Begin adding water, turn machine on and only add enough water to hold the mixture together. Do not make too wet.
Dump into a plastic ziplock bag. Pat together to form ball of dough.
If it's not coming together add a small amount of cold water, no more than a tablespoon.
Refrigerate for at least one hour. You can also freeze at this point.
When you are ready to use, then roll between two pieces of parchment paper that has been floured. I use a cold stainless steel rolling pin or a long french tapered pin. It may be a little sticky. Add flour to your hands. Peel off one sheet of paper. Continue with your recipe.
If you are making a pie with a crust, you might be better off covering the pie with separate pieces of dough as I've done in this recipe, using a cookie cutter.