Pear Almond Clafoutis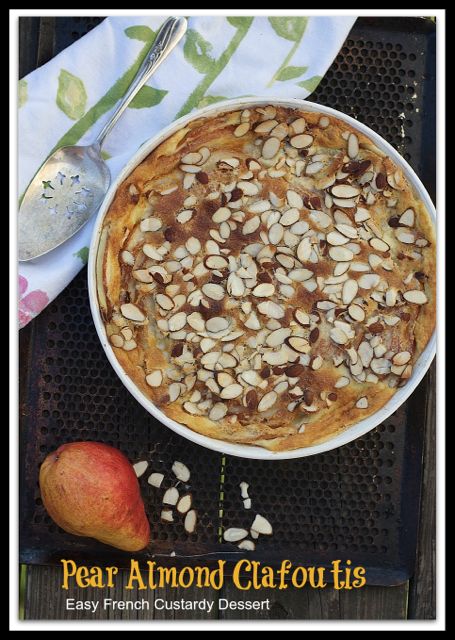 1 tablespoon unsalted butter
3 extra-large eggs, at room temperature
½ cup granulated sugar
⅓ cup all-purpose flour
1 cup heavy cream
½ cup whole milk
½ teaspoon vanilla extract
½ teaspoon all natural almond extract
½ teaspoon kosher salt
2 tablespoons brandy
3 to 4 ripe but firm Bartlett pears, peeled, cored, thinly sliced
¼ to ½ cup sliced almonds
Confectioners sugar for dusting
Preheat oven to 375 F. Butter your baking dish. Slice pears, thinly. I left skins on as the pears were very ripe.
I mixed everything in my vitamix, but you can mix in a kitchen aid or beat with electric mixer. Beat the eggs and sugar for minutes. Add flour, cream, milk, vanilla and almond extracts, salt and brandy. Blend on low to thoroughly mix.
Arrange the pear slices, slightly overlapping. Pour the custard mixture over the pears. Sprinkle with the sliced almonds. Bake until the top is golden and the custard is set, 30-40 minutes. Remove from oven and cool on a rack.
Serve warm, cold or at room temperature.