Stars and Stripes Peach Pie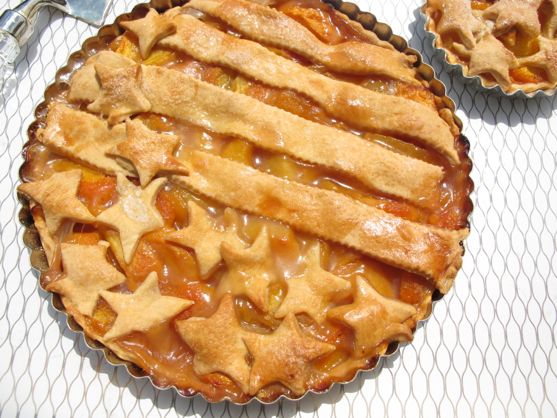 6-8 peaches
3-6 tablespoon sugar
3 tablespoons corn starch (or flour)
1 tablespoons lemon juice
Cinnamon sugar (optional) to your own taste
2 cups unbleached flour ( plus 1 teaspoon for later)
¼ teaspoon salt
12 tablespoons cold unsalted butter (if using salted, omit salt)
½ cup iced cold water
1 teaspoon sugar (optional)
milk
Make an x in bottom of each peach. Blanch in boiling water for one minutes. Skins should slip right off. Cool. Slice in wedges ¾ " thick. Toss gently with lemon and 1 tablespoon sugar. Chill overnight. You can skip this part if you don't have time, but I think it makes the peaches sweeter and requiring less sugar. Since peaches can run from sour to very sweet, you'll have to be your own best taster. This is why there is a large variation in sugar measure. Mix gently with flour.
Mix salt and flour together. Cut butter into small pieces. Freeze for a few minutes, as butter softens immediately upon cutting. If using food processor, put flour mixture in bowl.
Lay small pieces of butter evenly over flour and mix for 20 seconds at a time, stopping as soon as dough is shaggy. Stream in cold water. If using kitchen aid type mixer, use paddle attachment on low setting for one minute max.
Stream in cold water on sides of bowl. Mix on low, just until incorporated. Form into disc , wrap in plastic at least one hour. I rest my dough overnight, but this is not a must.
Take dough out 30 minutes before rolling to soften.
Roll out dough, evenly, not too thick, less than ¼" thick and in all directions to make a circle. Do not stretch dough, because it will shrink back. Patch any cracks or holes. Use fork to make indentations. Chill for 30 minutes, or put in freezer for 15 minutes.
Make a mixture of 1 teaspoon flour and 2 teaspoons sugar and put on bottom of crust. Place peaches in colander to drain excess liquid and arrange over sugar.
Roll out the rest of the dough into a rectangle shape and cut out stars and stripes. Arrange.
Brush dough with egg wash to enhance browning.
Bake for 45 -55 minutes at oven's lower level at 375. During last 20 minutes, you may need to tent with foil to avoid further browning.
Cool completely before cutting.
Note: Use any left over peaches and dough scraps to put a galette together, as pictured below. This could be your taste tester. Note: Tarts use less peaches than pies. You may need to adjust to make a pie.
Recipe by
Spinach Tiger
at https://spinachtiger.com/stars-and-stripes-peach-pie/