French Raspberry Tart Recipe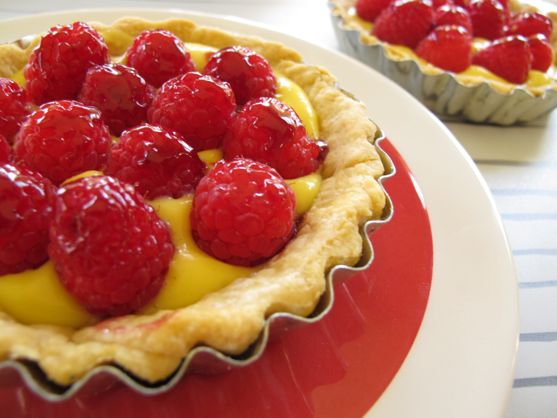 1¾ cups flour
¼ tablespoon granulated sugar
pinch salt
10 tablespoons unsalted butter, cut into cubes
2 large egg yolks
finely grated zest of 1 lemon
2 tablespoons cold water
tart dough, pâte sucrée (recipe below)
1½ pints raspberries
pastry cream (recipe below)
seedless raspberry jam or apricot jelly
1 cup whole milk
½ half vanilla bean, halved lengthwise
⅓ cup sugar
4½ teaspoons all purpose flour
3 large egg yolks
4 teaspoons unsalted butter
Tart dough, Pastry cream recipe instructions below.
Spread a little jam on bottom. Top with pastry cream. Arrange raspberries into the cream.
Heat remaining jam in pan until it's in liquid form. Brush raspberries with jam, using pastry brush. Chill.
These tarts remained intact, not soggy for 24 hours. You can fully assemble the morning of your dinner party.
You can put in food processor and bring together until dough is formed, or do this by hand.
Whisk together flour, sugar, salt. Mix in lemon zest and using fingers evenly distribute. Add cold butter and make sure all butter is covered with flour. Mix with fingers until it looks like course meal. Put egg yolks and water in center of mixture and mix with hands to incorporate.
Knead dough 5 to 6 times on floured surface. Form into disc. Cover with plastic and chill for 30 minutes.
Roll out and cut into four 5½" circles. I used a mason jar lid.
Press into tart pans, fork indentations, and chill for 30 minutes.
Line with parchment paper (with some overlap), and place beans or pie weights in each tart.
Bake at 350 for 12 minutes. Remove parchment and bake for another 5 minutes, until edges begin to brown. Cool completely.
Recipe by
Spinach Tiger
at https://spinachtiger.com/french-raspberry-tart-recipe-and-what-makes-a-tart-crust-different-from-a-pie-crust/