Hand Rolled Tarragon Pasta, Chanterelle Mushrooms and Blogger Collaboration Part 2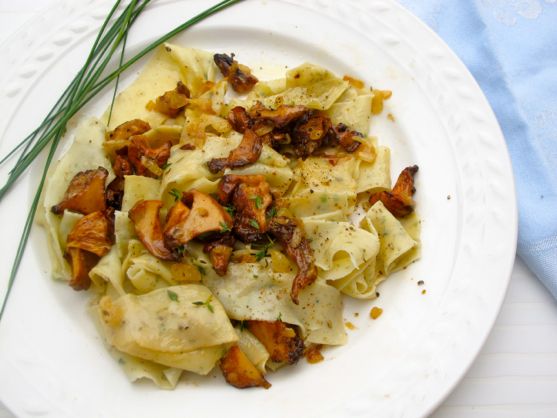 1 cup all-purpose flour, plus up to ¼ more flour to add in, if necessary
1 handful fresh tarragon, finely chopped
pinch salt
2 large eggs, cracked and in a small bowl
1 tablespoon extra virgin olive oil
¼ cup butter
¼ cup shallots, finely diced
2 cups chanterelle mushrooms (as many as you can afford)
2 tablespoons dry vermouth
2 tablespoons heavy cream
1 tablespoon minced tarragon
Mix flour with herbs and salt. Make well. Add in one egg and using a fork and holding sides of flour, incorporate. Add second egg. This is where good judgment comes in. If the pasta dough seems too wet, add in a little flour a tablespoon at a time. Knead dough for about five minutes. Pasta dough cannot be overworked. You are stretching the gluten and you want to end with a fairly smooth ball. Wrap in plastic and allow to rest for 30 minutes. This is a critical step, especially if you are going to roll out by hand.
Once dough is resting, clean area, flour hands, cut dough in half and roll out into a rectangle. I rolled the whole piece out, but it's more manageable in two pieces. Cut into strips, allow to dry for about 20 minutes. Then roll and cut like pinwheels. Unwrap, cut and dry. Cook as you would for any other pasta for about 5-6 minutes if dried, 2-3 minutes if not dried.
Rub mushrooms clean with paper towel. Slice in half or into bite sized pieces.
Heat olive oil and butter with shallots until shallots are softened.
Add mushrooms, cook for a few minutes.
Add vermouth and cream, cook on low for a few minutes.
Add tarragon.
Cook Pasta until nearly done. Add pasta to sauce and finish cooking in sauce.
I like to mix my pasta on a large roul pat, or marble top, which makes clean up very easy. Second choice is my quartz or marble counter top. To clean up, don't use wet rag; simply rub the pasta dough off, otherwise it's very messy to clean. Clean, once all dough is rubbed off.
Recipe by
Spinach Tiger
at https://spinachtiger.com/hand-rolled-tarragon-pasta-chanterelle-mushrooms-and-blogger-collaboration-part-2/