Healthy Honey Banana Spelt Pancakes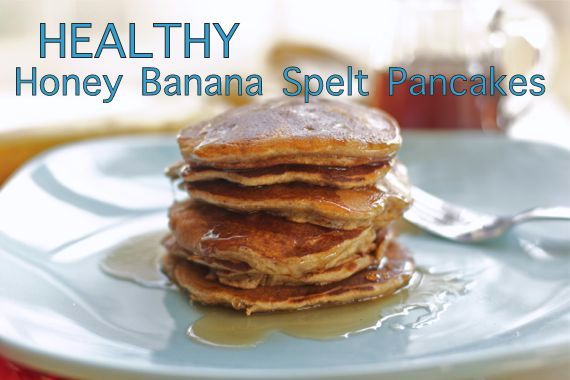 1½ cup spelt flour
2¼ teaspoon baking powder
½ teaspoon salt
dash cinnamon
dash nutmeg
1 cup milk
3 tablespoons melted butter or cooking oil (see notes)
2 eggs
1 banana, mashed
1-2 tablespoon honey
1 teaspoon vanilla
Mix together flour, baking powder, salt, cinnamon, nutmeg. Set aside.
Mix together mashed banana, butter, eggs honey, vanilla in another bowl.
Add in milk or butter milk and mix with flour mixture.
Heat a cast iron griddle to low. The lower the better. Just rub your pan with some oil. You might be tempted to turn the griddle higher, but the pancakes will burn. Using a paper towel rub oil on griddle. Using too much oil will cause uneven cooking. When pancakes begin to bubble, turn over, using your thinnest spatula. I use my cookie spatula.
Apply oil with paper towel between each batch.
This recipe was recently changed, adding in two eggs and three tablespoons melted butter, taking out applesauce.
If you want a low-fat pancake, sub ¼ cup applesauce for butter.
Recipe by
Spinach Tiger
at https://spinachtiger.com/healthy-honey-banana-spelt-pancakes/