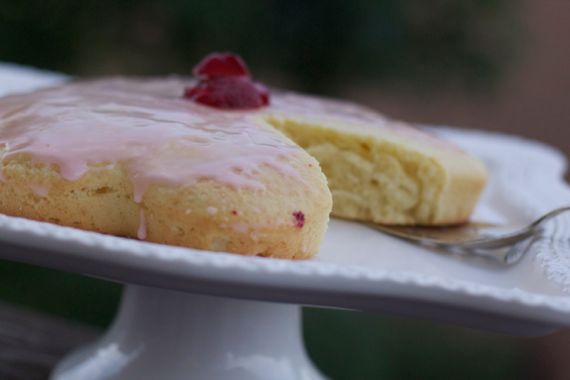 1½ cups flour
1 teaspoon baking powder
1 teaspoon baking soda
¾ teaspoon salt
2 lemons, zest and juice (can use a lemon and a lime)
1 cup sugar
3 large eggs
½ cup sour cream
½ cup extra virgin olive oil
GLAZE INGREDIENTS
1 tablespoon strawberry lemonade or any citrus juice (or water)
½ cup of confectioner's sugar, (more if it is too runny)
Sift baking soda, baking powder, flour together. Set aside.
Zest lemons into the sugar. Use your hands to break down the zest. Add eggs and sour cream to sugar.
Mix dry mixture into the sugar mixture. Add in olive oil, and mix.
Pour into a 9 inch cake pan.
Bake for 27-33 minutes at 350.
INSTRUCTIONS FOR GLAZE
Mix together until glaze forms. If it's too runny, add more confectioner's sugar. If it's too thick, add more liquid. Pour over the cake while it's still warm.