Penne Pasta with Brussels Sprouts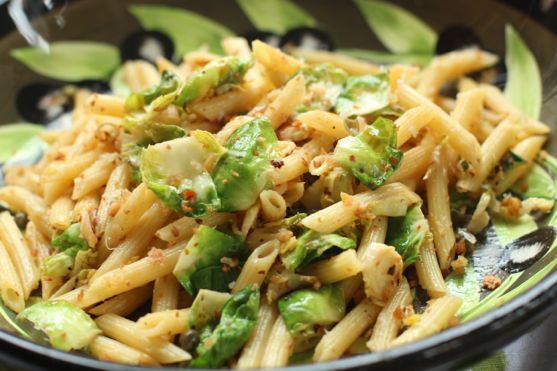 ½ pound penne pasta
10 brussells sprouts (more if you like more)
2 tablespoon olive oil
2 small anchovies, rinsed, drained
1 large garlic clove crushed, minced
squeeze of half a lemon (save zest for garnish)
1 teaspoon capers
½ teaspoon crushed red pepper
sea salt, black pepper
¼ cup panko bread crumbs toasted
1 tablespoons pecorino romano cheese (can use fresh parmesan)
zest of half lemon
Cook pasta according to the directions. Make sure to boil in a heavily salted pot of water. Drain.
Trim ends of brussels sprouts. Pull of a lot of big leaves and reserve.
Slice the remaining part of each sprout.
In a small saute pan, melt the anchovies in olive oil. Add garlic and cook for a minute or two until golden, not brown. Add in capers, crushed pepper and lemon.
Saute brussels sprouts including leaves for 5-6 minutes (could be less time) until they are wilted and a bit golden.
Toss with pasta, season with salt and pepper to taste. Add in breadcrumbs and pecorino cheese, toss again. Garnish with lemon zest. Serve immediately.
This makes two entrees or 4 appetizer size plates. Note: You can make the brussels sprouts as a side dish without the pasta. You can play around with ingredients. I used homemade croutons, but gave you the recipe with toasted panko breadcrumbs. Either option works.
Recipe by
Spinach Tiger
at https://spinachtiger.com/penne-pasta-with-brussels-sprouts-lemon-capers-breadcrumbs/