Meyer Lemon Shaker Pie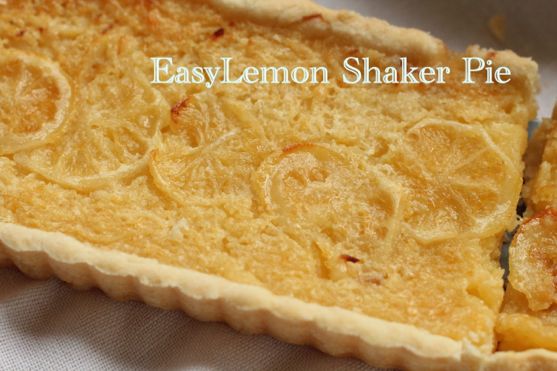 Pie dough for one crust pie.
2 cups of sugar
3 organic Meyer lemons (can use regular lemons)
4 eggs
¼ teaspoon salt
3 tablespoons flour
4 tablespoons melted butter
1 teaspoon vanilla
Prepare lemons and sugar will sit overnight in refrigerator.
Cut tips of lemons off. Zest into bowl. If the pith is thick, cut it off. You can trim some of it or all of it. I take most of the pith off.
Slice very thin with mandolin or sharp knife.(Freeze lemons for 10 minutes if using a knife).
Mix zest into sugar with your hands. Add in lemon slices. Cover with plastic and put in refrigerator overnight.
Prepare pie dough. (see notes)
Add four eggs to food processor. Add in vanilla. Mix.
Add lemon/sugar mixture, flour, salt, melted butter. Mix.
Pour into unbaked pie shell.
Bake at 375 for 40-45 minutes. Do not over bake. Bake just until the top is set.
Cool completely before cutting. Store in refrigerator.