Gingerbread Men Dressed with Chocolate and Ginger Salt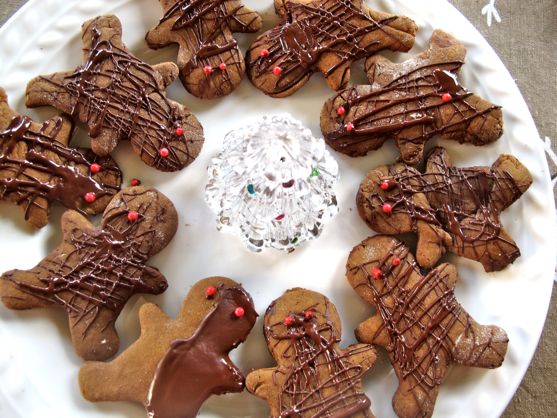 Recipe type:
Christmas Cookie
1 cup butter
1½ cups brown sugar
2 eggs
1 cup dark molasses (not blackstrap)
1 teaspoon vanilla extract
6¼ cups cake flour
4 teaspoons ground ginger
2 teaspoons ground cinnamon
1 teaspoon baking soda
½ teaspoon ground cloves
½ teaspoon salt
6 ounces melting chocolate
ginger salt (optional)
Cream together butter and sugar. I used the paddle attachment of a kitchen aid on medium speed. Add in eggs one at a time. Add molasses until incorporated. Add vanilla.Sift together cake flour and remaining dry ingredients. Add dry ingredients a cup at a time to the creamed sugar/butter mixture until fully incorporated.Wrap into three discs in plastic.
Chill for at least one hour.
Take each disc out one at a time. Roll to ¼" and cut with gingerbread cookie cutter.
Bake at 350 for 11 minutes. Allow to cool.
To add chocolate drizzle, melt chocolate in microwave at power 5 and check every 60 seconds, stirring to just melted enough to be able to drizzle, using a fork.
Recipe by
Spinach Tiger
at https://spinachtiger.com/gingerbread-men-dressed-with-chocolate-and-ginger-salt/