Sour Cream Chocolate Bundt Cake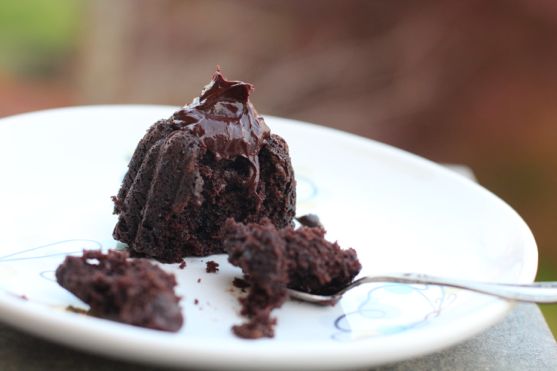 Chocolate Sour Cream Bundt Cake
CAKE RECIPE
1 cup (2 sticks) unsalted butter, plus more for preparing pan
⅓ cup cocoa powder, plus more for preparing pan
1 teaspoon fine sea salt
1 cup water
2 cups all-purpose flour
1¾ cups sugar
1½ teaspoons baking soda
2 large eggs
½ cup sour cream
1 teaspoon pure vanilla extract
GANACHE GLAZE
4 ounces bittersweet chocolate, finely chopped
2 teaspoons corn syrup
½ cup heavy cream
1 tablespoon sugar
Cake
Pre-heat oven to 350.
Heat together butter, cocoa powder, salt and water over medium heat. Cook until melted. Remove set aside to cool.
Sift together flour, baking soda, sugar in bowl or mixer and whisk together.
Put the flour, sugar, and baking soda in a large bowl and whisk to blend. Add half of the melted-butter mixture and whisk until completely blended. Add the remaining butter mixture and whisk. Add the eggs one at a time, whisking each to blend completely before adding the next. Whisk in the sour cream and vanilla until smooth.
Pour mixture into pan and bake for 40-45 minutes.
Let cool completely before glazing.
Ganache Glaze
Place chocolate in small mixing bowl.
Heat cream and sugar until sugar is dissolved and cream is transparent.
Pour over chocolate. Allow to sit for five minutes.
Stir continuously in the middle until mixed. Add in corn syrup and stir until incorporated.
If this thickens you can stir it up before serving. Or, you can serve it warm right over the cakes prior to serving.
Cut this recipe in half to make 12 cupcakes, or 12 mini bundt cakes. I used less sugar and corn syrup than the original recipe.
Recipe by
Spinach Tiger
at https://spinachtiger.com/chocolate-sour-cream-mini-bundt-cakes/