Green Potato Soup with Watercress, Leeks, and Spinach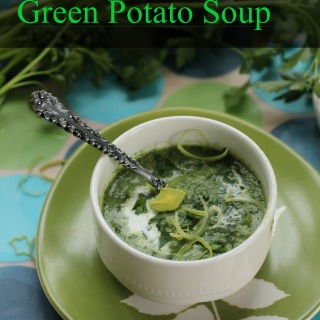 1 tablespoon butter
1 tablespoon olive oil
1½ cups thinly sliced leeks
1 shallot minced
salt and pepper
1 medium sized yukon gold potato, thinly sliced
2 bunches watercress
1 bunch baby spinach
handful of fresh Italian parsely
2 cups chicken broth (can substitute with vegetable broth)
splash cream (optional)
pinch of freshly ground nutmeg
Turn heat to medium. Melt butter in sauce pan. Add olive oil.
Add leeks and shallots and cook for three minutes to soften. Season with salt.
Add potato and cook until softened, turning often. Season with salt
Once potato is cooked, add watercress and spinach and mix together until wilted.
Add chicken broth.
Using emulsion blender, blend soup until potatoes are thoroughly broken down.
Add splash of cream.
Add nutmeg. Taste and season with salt and pepper as needed.
Garnish with sliced leeks, splash of cream and chopped parsley.
You can use vegetable broth instead of chicken broth, but will probably need to add more salt.
Recipe by
Spinach Tiger
at https://spinachtiger.com/green-potato-soup-for-st-patrick/