Skinny Grill Salmon that Tastes Like Butter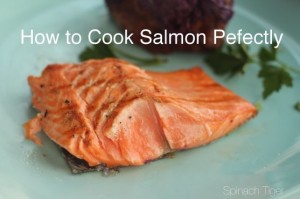 wild or responsibly farmed salmon with skin, about 1 inch thick
1 teaspoon maple syrup
1 teaspoon low sodium soy sauce
splash chili oil or sriracha
sea salt, freshly ground pepper
Heat grill to very high (over 400 degrees)
Make sure grill is very clean, and sprayed down with cooking spray, or brushed with oil.
Marinate salmon for 30 minutes with a marinade of maple syrup, soy sauce, sriracha. Season with salt and pepper.
Place salmon on hot grill top side down for 2-3 minutes. Turn over and turn grill down to medium heat. Continue to grill for 4-5 minutes. If the white albumin starts coming out, take off grill immediately. You should have a very crispy skin underneath.
PAN FRYING SALMON
(Use a heavy stainless steel pan such as all-clad)
Heat frying pan on medium heat. Add a tiny bit of oil (salmon is fatty, doesn't need much). Once pan is hot, add salmon skin side down, cook just until the salmon loosen from the pan, 2-4 minutes. Turn over for another 2-4 minutes. Remove from pan immediately.
Recipe by
Spinach Tiger
at https://spinachtiger.com/skinny-grill-salmon-that-tastes-like-butter/