Keto Eggplant Parmesan with Pork Panko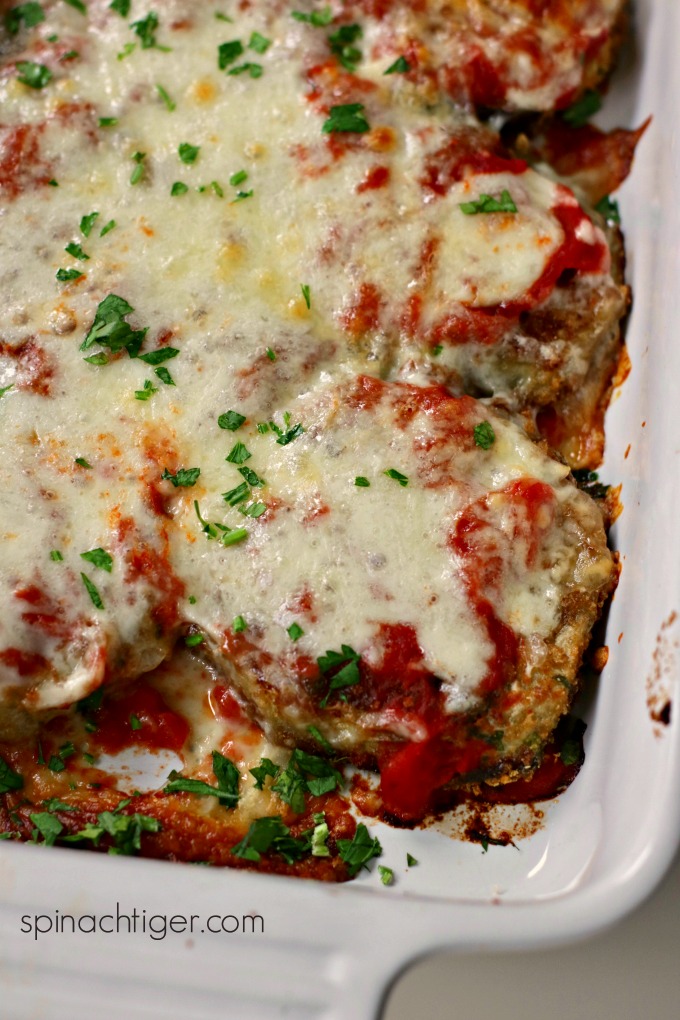 2 eggplants
salt
4 eggs (may use less)
2 to 4 cups pork panko ORDER HERE
1 cup pecorino romano, grated
2 cups tomato sauce (recipe here)
1 pound mozzarella cheese, shredded
olive oil, coconut oil or avocado oil for frying
Slice eggplant. I like it medium thick, about 1 inch if I'm baking it without stacking it.
Sweat the eggplant. Lay out on cloth or paper towels and salt heavily on both sides. Use more cloth or paper towels to absorb the liquid.
Beat 2 eggs. You may not need all four so beat more as you need them.
Add salt and pepper into eggs.
Mix panko with cheese. I like to use ½ cup cheese to 1 cup pork panko, but you can decide for yourself. Keep in mind that pecorino is salty, but I think that adds flavor.
Dip into egg, then breadcrumbs and fry eggplant over medium heat in oil of your choice until golden brown on each side. Drain on paper towels.
Preheat oven to 400 degrees.
Put tomato sauce in bottom of baking dish.
Layer eggplant with sauce and mozzarella cheese. I like one layer,but you can make several layers.
Bake until cheese is completely melted and slightly golden brown. Allow to rest 10 minutes before cutting.
Recipe by
Spinach Tiger
at https://spinachtiger.com/pork-panko-crusted-keto-eggplant-parmesan/