Apple Upside Down Cake, Grain Free, Keto Friendly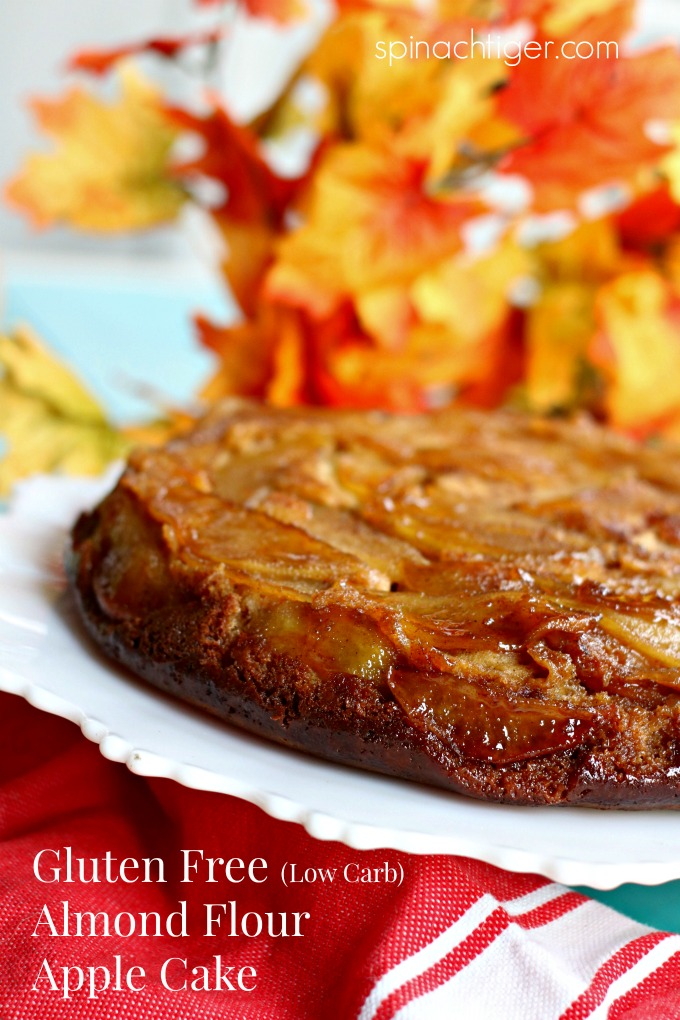 Recipe type:
Low Carb Dessert
This Recipe contains Amazon Links which earn a small commission.
2 large apples
juice of one lemon
½ cup Swerve Brown Sugar Order Here
½ cup butter
¼ cup heavy cream
½ cup avocado oil
1 teaspoon pumpkin pie spice or cinnamon
dash salt
280 grams of almond flour Order Here
1 teaspoon gluten free baking soda
1 teaspoon sea salt
1 ground teaspoon cardamom or 1 teaspoon vanilla extract
¼ teaspoon freshly ground nutmeg
¾ plus 1 tablespoon granulated Swerve Order Here
4 eggs
½ cup sour cream
¼ teaspoons Stevia Glycerite Order Here
Preheat oven to 350 degrees F. (180 C., Gas 4)
Peel and slice apples thinly.
Line cake pan with parchment pan and spray with baking spray
Place in bowl with lemon juice and teaspoon cinnamon, tablespoon swerve.
Heat butter and brown sugar until melted.
Add in heavy cream. Stir.
Pour into prepared cake pan.
Add apples, placing in concentric circle.
Beat eggs in mixer with ¾ cups granulated Swerve. Beat for five minutes.
In separate bowl, mix almond flour, baking soda, salt, cardamom, nutmeg.
Add dry ingredients and sour cream, oil, and stevia glycerite to egg mixture. Mix well on low.
Add cake batter to cake pan. Smooth out top.
Bake in lower rack of the oven for one hour. Put tin foil over cake at 30 minutes, as almond flour burns easily.
Allow to cool completely before removing cake.
Using a flat plate, turn over so that apples are the top of the cake.
Cool completely before serving.
Cake can be kept in refrigerator up to one week, can be frozen.
An option is to place cake under broiler for 4 minutes or so to brown after turning over. Cake should turn over easily once cooled.
Recipe by
Spinach Tiger
at https://spinachtiger.com/low-carb-apple-upside-down-cake-grain-free/