Grain Free Strawberry Cake with Sugar Free Strawberry Frosting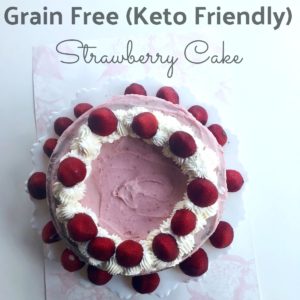 280 grams almond flour Order Here
½cup avocado cup oil or ¼ cup avocado oil and ¼ cup butter
5 eggs
1 cup strawberry puree
1 teaspoon salt
1 teaspoon gluten free baking powder Order Here
1 teaspoon baking soda
1 teaspoon xanthan gum Order Here
1 cup Swerve Order Here
Strawberry Frosting Ingredients
½ cup butter, room temperature
4 ounces cream cheese, room temperature
1 cups confectioner's swerve, sifted (see notes) Order Here
¼ cup strawberry puree
¼ cup frozen strawberries
1 cup stabilized whipped cream (Optional, Recipe Here)
Mix almond flour, salt, baking powder baking soda, xanthum gum, together.
Mix Strawberry puree with Swerve, Oil and eggs.
Mix both wet and dry ingredients.
Prepare baking pans with parchment paper and baking spray.
Pour into prepared baking pans and bake at 350 degrees F, 180 C. for 30 minutes or until the toothpick or cake tester comes out clean.
Mix cream cheese until it's fluffy.
Add butter. Mix well.
Add in frozen strawberries. Mix well. The strawberries will break up into small particles.
Add in strawberry puree.
Slowly add in confectioner's sugar until you get the consistency you want.
Assemble Cake
Cool cake completely before removing from pan.
Spread frosting over cake.
If Making a Double Layer Cake:
Double Recipe. You might want to put stabilized whipped cream in between layers.
Double Recipe for a layer cake or tiny three layer cake.
Calories:
331
Fat:
31
Carbohydrates:
4
Fiber:
2
Protein:
10
Recipe by
Spinach Tiger
at https://spinachtiger.com/gluten-free-strawberry-cake-low-carb/