Italian Orange Almond Cake Made with Whole Oranges (Gluten Free)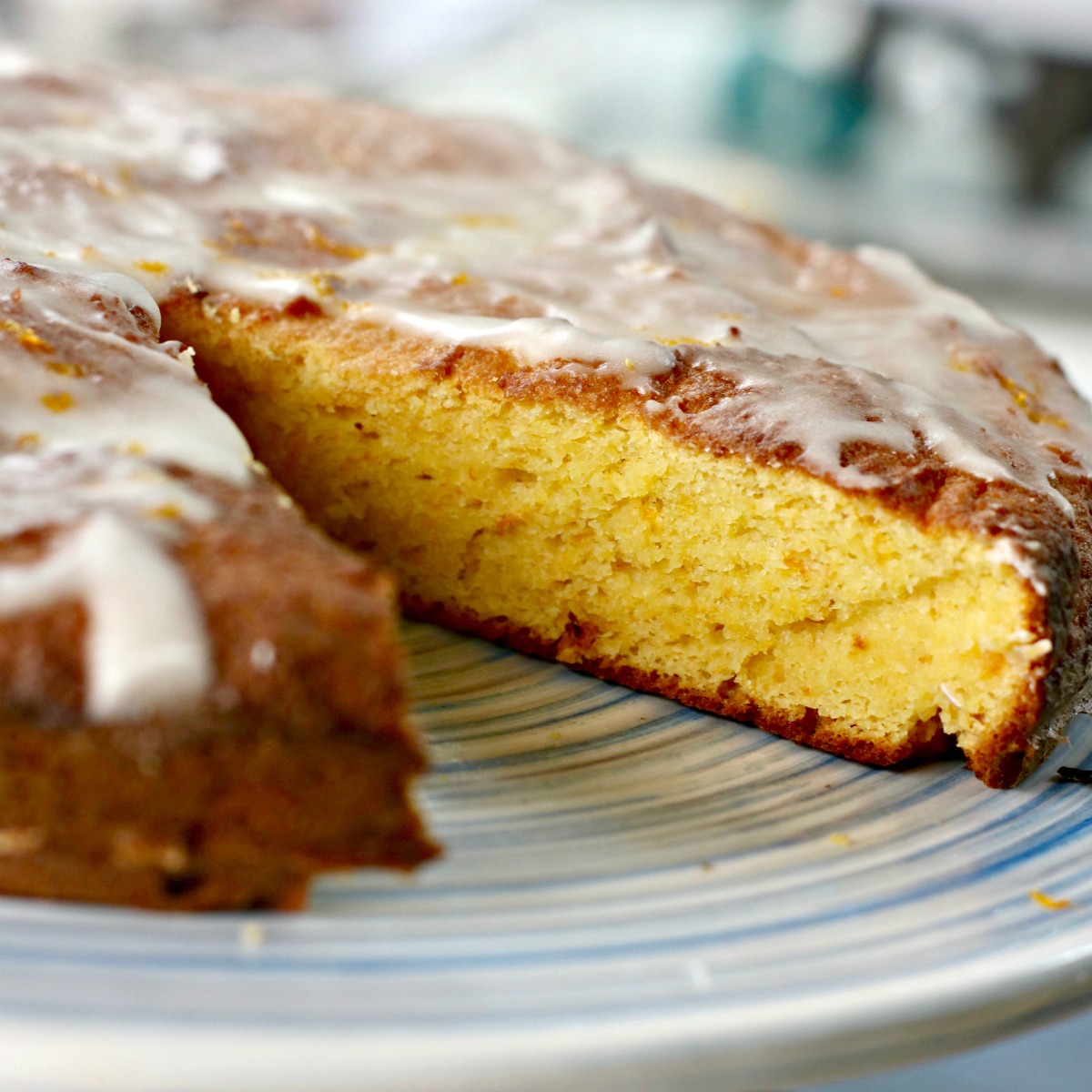 2½ cups blanched almond flour (280 grams) I use this or recipe here
1 teaspoon xanthum gum ORDER HERE
1 cup granulated swerve ORDER HERE
½ teaspoons baking soda
1 teaspoon fine sea salt
1 teaspoon baking powder
5 large eggs
1½ large navel oanges (can mix citrus, see notes)
½ cup olive oil
Baking spray (or oil for baking pan) I used this baking spray.
Orange Glaze for One Layer Cake
2 tablespoons orange juice (from the other half of orange)
½ cup Confectioners Sugar (I use sugar free Swerve)
zest of the half orange
Kitchen Equipment
9 inch cake pan
baking spray
parchment paper
tin foil
Preheat oven to 350 degrees f.
Prepare a 9 inch cake pan with parchment paper. Use baking spray, or oil.
Cut oranges into quarters, Place in pot to boil, adding just enough cold water to cover by 2 inches.
Boil for 30 minutes. Drain. Cool. Place in Vitamix and mix until oranges look like a mush.
Mix almond flour, xanthum gum, salt, granulated Swerve (or sugar), baking soda, baking powder together.
Whisk until well incorporated.
Mix eggs, olive oil in bowl (I put this in my mixer).
Add flour mixture.
Add orange mixture. Mix.
Prepare pan with baking spray.
Pour into pan. Bake for 50 to 60 minutes, putting foil over cake loosely once it golden. (around 20 to 30 minutes).
Cool Completely before adding glaze, unless serving warm and you want a transparent glaze.
If you want thicker glaze add more confectioner's sugar.
Garnish immediately with orange zest.
Serving size:
1/10
Calories:
181
Fat:
17
Carbohydrates:
5
Fiber:
3
Protein:
5
Recipe by
Spinach Tiger
at https://spinachtiger.com/italian-orange-almond-cake-with-whole-oranges-gluten-free-low-carb-paleo/