Wild Berry Lavender Ice Cream (Keto Friendly) Sugar Free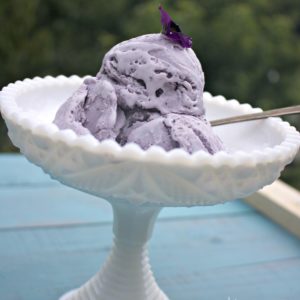 1 cup wild blueberries (see notes)
¼ cup water
2 tablespoons swerve
4 ounces cream cheese, room temperature
⅛th teaspoon fine sea salt
¼ teaspoon xanthan gum Order xanthan gum here.
1¼ cup heavy cream
2 whole cups milk (I use lower carb Fairlife)
½ cup Granulated Swerve Order Swerve Here
10 drops teaspoons stevia glycerite (if using swerve)
1 drop Lavender Essential Oil
¼ teaspoon Orange Extract Order Here
Make a blueberry compote by bringing the blueberries, ¼ cup water and two tablespoons granulated swerve to a boil.
Simmer for a few minutes.
Another option is to put frozen blueberries in Vitamix, when you're ready to mix the milk, cream and cream cheese and not use compote.
Mix two tablespoons milk with cream cheese, salt, xanthan gum until well-incorporated. I use a blender.
Heat 1/14 heavy cream, remaining milk, ½ cup granulated swerve until you reach a boil. Reduce heat, continue to boil for 4 minutes.
Remove from heat, pour into cream cheese mixture.
At this time, add either blueberry compote or frozen blueberries.
I like to use a Vitamix and mix the berries completely to have a smooth mixture.
Put in a stainless bowl over a big bowl of ice to bring an immediate chill. If you put in a plastic bag, the ice cream will get cold enough to churn right away.
You can also refrigerate overnight.
Take through ice cream machine for about twenty minutes..
The ice cream will will take form, but still be a little soft.
Pack in container with parchment or plastic wrap pressed against it and freeze for four hours.
Enjoy.
Recipe by
Spinach Tiger
at https://spinachtiger.com/lavender-blueberry-ice-cream-recipe-keto/