Low Carb Brownies Recipes, (keto friendly)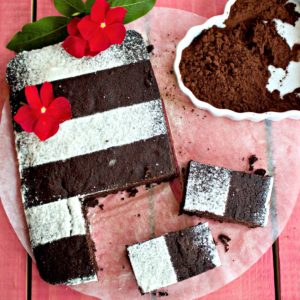 Recipe type:
Low Carb Dessert
¼ cup coconut flour
½ cup powdered erythritol plus extra for dusting
1 teaspoon vanilla
1 teaspoon baking powder
½ teaspoon sea salt
½ cup high quality unsweetend cocoa powder plus extra for dusting
2 shots espresso or ¼ cup strong coffee (see notes)
5 drops Stevia glycerite
½ cup unsalted butter or coconut oil
2 eggs
Mix coconut flour, baking powder and salt. Set aside.
Place butter, cocoa and erythritol, glycerite in pan with coffee.
Heat over low until thoroughly mixed.
Add in eggs and vanilla.
Add to flour mixture
Mix by hand.
Prepare an 8 x 8 brownie pan with parchment paper.
Bake for 15 minutes at 350 degrees.
Cool before cutting.
Garnish with Swerve Confectioner's sugar.
Recipe by
Spinach Tiger
at https://spinachtiger.com/low-carb-brownies-recipe-keto-friendly/