Pasta with Salmon, Olives, Cauliflower in Twenty Minutes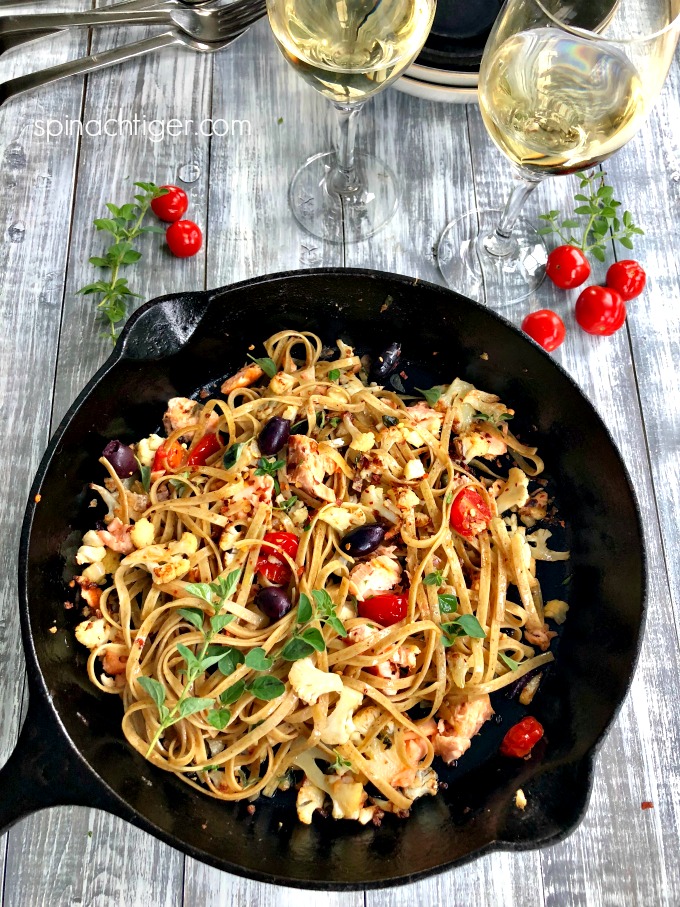 ½ pound salmon
4 ounces pasta (see notes)
2 tablespoons coconut oil or avocado oil
4 anchovies (optional)
2 cups cauliflower, sliced thinly in small pieces
4 garlic cloves, diced
1 shallot, diced
4 tablespoons extra virgin olive oil
6 -8 kalamata olives
6 grape tomatoes cut in half (or sun dried tomatoes)
½ teaspoon cracked red pepper
1 teaspoon salt
1 teaspoon black pepper
2 tablespoons chopped fresh oregano or ½ teaspoon dried
2 tablespoons chopped parsley
Heat two tablespoons coconut oil or avocado oil in pan to medium high heat.
Melt 4 anchovies in hot oil. You will not taste these, but they add a layer of flavor.
Add cauliflower.
Season with salt and pepper.
Fry until cauliflower is mostly golden brown. Drain Set aside.
Put salmon in oven at 400 degrees for ten minutes or until done, but not overdone.
In meantime, cook pasta according to directions.
Make sure to heavily salt the water once pasta boils and then add pasta.
Drain pasta, but reserve a little bit of the pasta water.
Heat olive oil in a large frying pan. Add in garlic and shallot until softened.
Add cauliflower back. Add in cooked pasta and a little bit of pasta water, just enough to make sure pasta is not dry.
Cut salmon into pieces and add to pasta.
Season with salt, pepper.
Add olives, tomatoes.
Add in more olive oil if necessary.
Top with fresh herbs.
Serve immediately.
I used low-carb pasta from papparadelle's.
Recipe by
Spinach Tiger
at https://spinachtiger.com/pasta-with-salmon-recipe-mediterranean-style-with-low-carb-pasta/