Feta Stuffed Meatballs with Pistachio Pesto (Keto, Paleo, Friendly)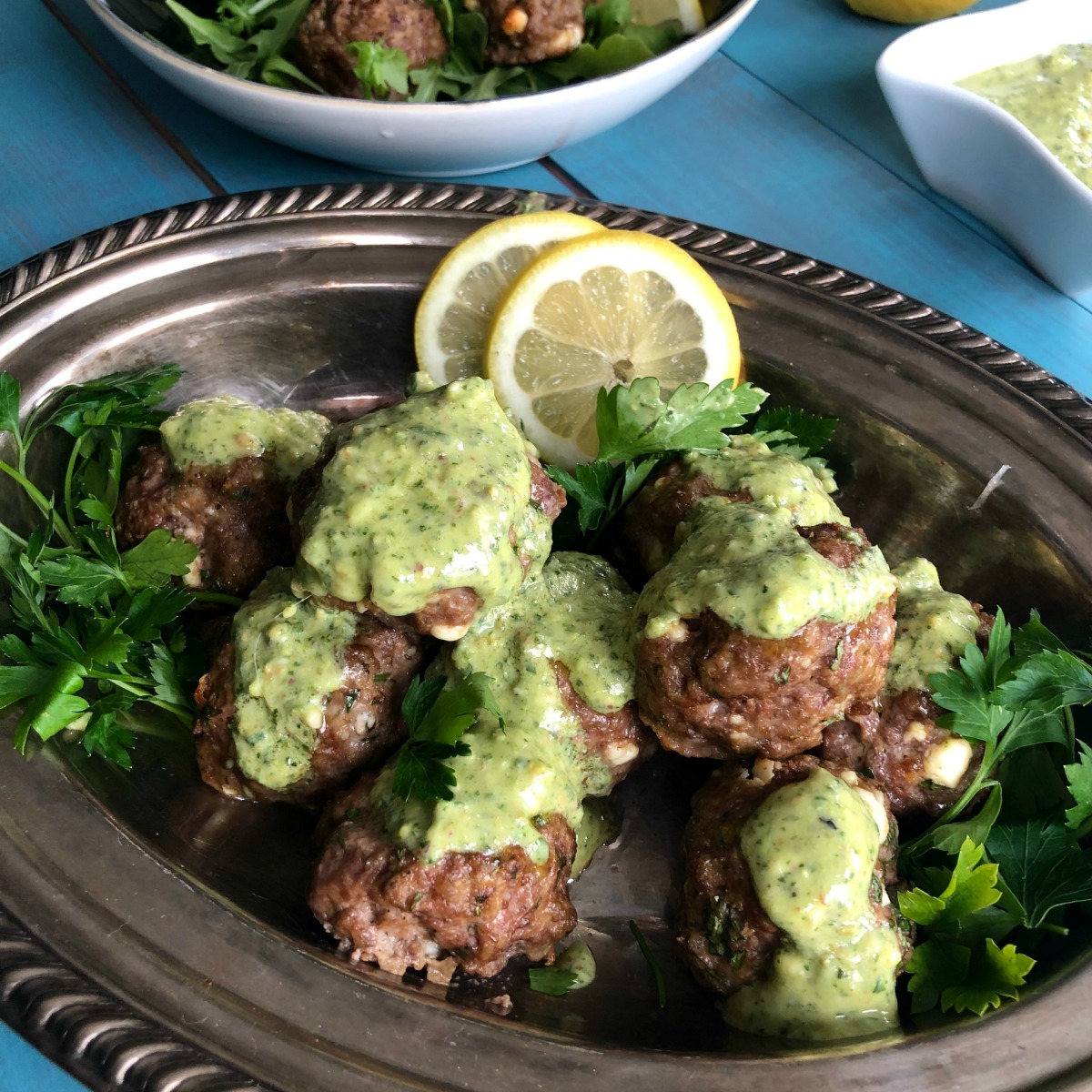 1 pound ground beef
1 pound ground lamb (You can use all beef)
large handful parsley chopped
2 eggs
1 to 2 tablespoons extra virgin olive oil
3 to 4 ounces crumbled feta (not pre-made crumbles)
1 teaspoon dried oregano or 1-2 tablespoons fresh oregano or fresh rosemary
2 to 4 cloves of garlic, minced
½ teaspoon red chili flakes
1 teaspoon sea salt
1 teaspoon black pepper
Mint Pistachio Pesto Recipe foundHere
If using beef and lamb, mix together, carefully.
Add remaining ingredients and mix together.
As far as herbs, if you don't have oregano, use rosemary.
Do a "taste test" by frying two tablespoons or so of meat mixture. Adjust seasonings as needed.
Form meatballs. I use an scooper to make a uniform meatball.
Bake at 400 degrees for approximately 20 minutes. Check at 15 minutes. Don't over bake.
While baking, prepare pistachio pesto.
Serve immediately.
Can be refrigerated for three days.
Can be frozen.
This makes 18 medium sized meatballs.
The pistachio pesto recipe is flexible. I added in extra butter in this recipe for the meatballs. You can make it chunky or smoother. That will be up to you. All are good.

Feta: Do not use pre-made crumbles which have no flavor.
Recipe by
Spinach Tiger
at https://spinachtiger.com/keto-greek-feta-lamb-meatballs-pistachio-mint-pesto/