Low Carb Shortcake Biscuits for Grain Free Strawberry Shortcake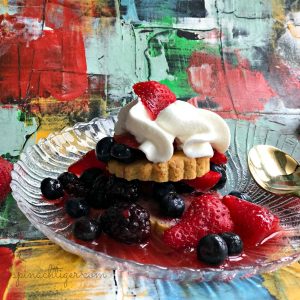 2 cups super fine almond flour (I use this)
¼ cup coconut flour (I use this)
2 tablespoons powdered erythritol (I use this)
dash salt
½ teaspoon baking soda
4 tablespoons melted butter
2 eggs
1 teaspoon vanilla (I use this)
Strawberry Shortcake
1 to 2 pints strawberries
¼ to ½ cups water
Preheat oven to 350 Degrees F.
Mix all dry ingredients together.
Add vanilla to eggs and mix together
Add butter to egg mixture.
Add this liquid to the dry ingredients.
You will have a biscuit dough.
Cut into the size you prefer. I will get between 8 and 10 biscuits per recipe.
Bake for 15 minutes at 350 Degrees F.
Strawberry Shortcake
To make strawberry shortcake, cut up your strawberries and add a tablespoon of swerve or sweetener of your choice, with a little bit of water. Let that sit for a while to make sure there is some juice.
Serve with your biscuit and whipped cream.
Recipe by
Spinach Tiger
at https://spinachtiger.com/grain-free-shortcake-biscuits-keto-gluten-free/